Imbedded in our mission at Emerging Wisdom is a commitment to partner with others to elevate the human condition and advance a healed future.  To this end, we facilitate organizational and community improvement efforts that create forward movement for mission-minded corporations, government agencies, non-profits and community initiatives.  Our work involves convening conversations that matter among large and small groups of people who can make change happen.  We then use the emerging insights and agreements to plot clear paths to more highly functioning teams, impactful organizations and empowered communities.
Whatever your desired outcomes, our facilitation and planning process will help you achieve them.  We employ active listening, thoughtful inquiry, and authentic sharing as means of building synergy among process participants.  These activities strengthen relationships, aligning participant commitments and actions to generate remarkable breakthroughs.  Additionally, we follow a seven-step engagement protocol that lays the groundwork for your success.  We work closely with you to: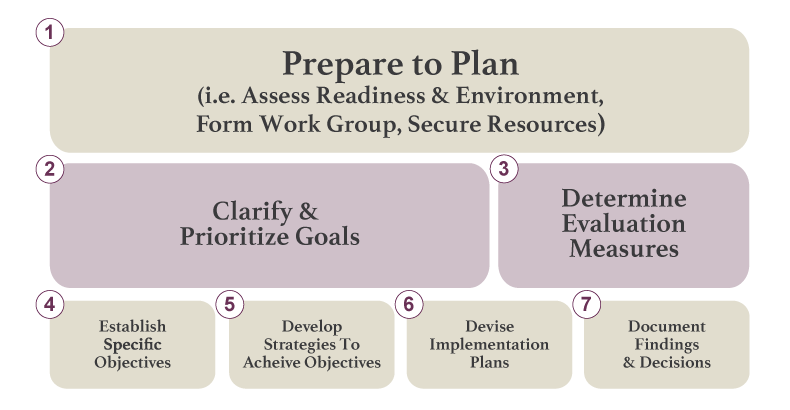 Facilitation & Planning Testimonials
"Rebeccah Bennet is BRILLANT! Working with Rebeccah is amazing! We have worked with Rebeccah for over 10 years! She is so gifted in the art of facilitation and being able to gather the thoughts of many and summarizing those points to bring a succinct, insightful conclusion! Absolutely love working with Rebeccah and look forward to doing so for years to come!"

"The strategic plan that Rebeccah helped us develop is nothing short of transformative. It positions us well for a future that is greater than today."

"As we approach our 100th Anniversary, the Urban League wanted the best person in the region to put together our Strategic Plan for the next four years. We worked with Rebeccah Bennett because of her tremendous skills, professionalism, hard work and commitment to excellence. The plan that she helped us develop will guide us into our Centennial celebration."