At Emerging Wisdom, our training programs are the result of years of field practice, applied research and thoughtful reflection. Nearly two decades of consulting with government, non-profit and business organizations along with 10 years of entrepreneurship have given us a body of experience and insights to share. While we still have much to learn, our workshops and trainings provide platforms not only for developing others, but also for expanding and refining knowledge sets.
Our training sessions are customized to meet your needs and deliver results whether offered in professional or personal settings. Every workshop contains core elements that advance learning and promote the meaningful exchange of knowledge and ideas among participants. The diagram to the right displays these elements: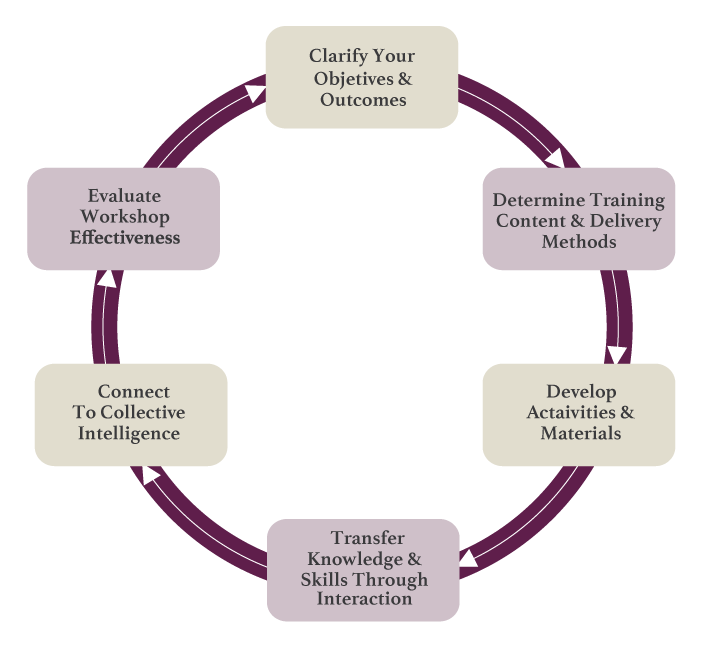 Our trainings not only incorporate these core design elements, they also cover a wide range of topics that appeal to different interests. In the area of professional development, we conduct workshops on:
– Leadership
– Persuasion and influence
– Higher order communication skills
– Public speaking
– Public engagement
– Strategic and operational planning
We also offer trainings that support your personal growth. Among our most popular are:
– Creating The Healed Future: Manifesting A Better Life & World
– Feed Your Life: Finding Satisfaction & Fulfillment
– Catching Hell In The Hallway: Moving Through Change & Transition
– Healing The Souls Of Women: An Interactive Theater Workshop
– LEAP! Breaking Through Barriers To Your Growth & Greatness
"The partnership formed with Emerging Wisdom for leadership development has been invaluable.  Rebeccah's ability to connect with audiences on every positional and intellectual level is unmatched.  She is both knowledgeable about a plethora of topics and masterful at delivering information in a palatable and relatable fashion.  She is an extraordinary trainer and facilitator."

"I would like to personally thank you for another outstanding session that has further encouraged momentum and excitement around our professional development series at my company.  The consensus was that this was a very relevant session with techniques that can be applied to daily work and life to improve the ways in which we communicate."